Graphic designing is an exciting field to explore and offers endless opportunities to express your creativity. While you can design on paper using pencil and paper, you can also use a variety of online graphic designing tools to create your designs. Today, there are so many online graphic design software and online graphic design tools available to help you with your design projects. You can use online graphic designing tools to create your designs, modify them, and share them with others.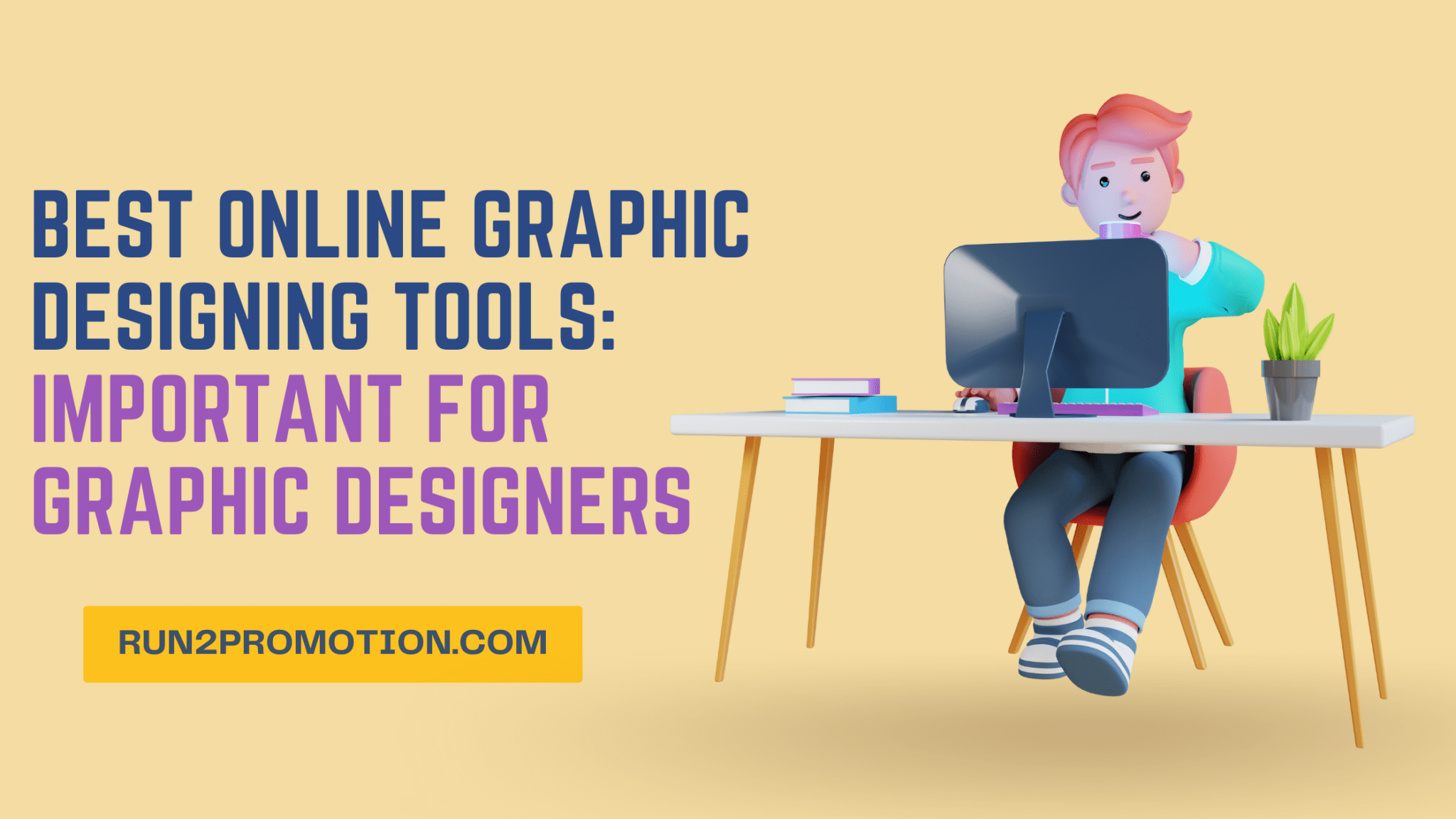 Best 30 online Graphic Designing Tools
Canva is the best online Graphic designing tool for someone who is just getting started with graphic design. Its drag-and-drop interface makes it easy to experiment with text, images, and layouts in a matter of minutes. Canva also has a library of professional-quality fonts, text styles, and background images that help you achieve the look you want without needing any design experience.
Crello is the best online Graphic designing tool to build professional-quality websites, apps, blogs, and campaigns. It lets you create a website in minutes without the complexity of coding or the limitations of templates.
The world of online design is ever-evolving. New software and services are coming out all the time, and it's hard to keep up with everything. One of the newest players in the industry is Adobe Spark. This new service was announced at Adobe Max, and it's designed to make it easier for you to create professional-quality digital products and marketing materials without having to use multiple programs.
Photoshop is the industry standard for graphic designing tools. It has been used by the biggest names in the industry, from the most prestigious advertising agencies to prestigious fashion houses. Because of its widespread use, it is often the first program that aspiring designers learn. Photoshop is a powerful program with a large number of tools that allow you to create some truly stunning images.
The best online Graphic designing tool is the one that allows you to create powerful, visually stunning content without any design experience. Piktochart is such a tool. In fact, the Piktochart platform is designed to help you create infographics, data visualizations, and other visual content without any prior design skills or experience.
Figma is a free, web-based Graphic designing tool that allows anyone with basic photo-editing skills to create professional-quality images and animations. Unlike other design programs, Figma is entirely browser-based so you can create your designs on your computer or tablet anywhere, anytime. It also offers a number of advanced Graphic designing tools and services, such as live video support, infinite canvas support, and an in-browser video editor. Figma is currently available in beta but can be used free of charge.
Pixlr is a platform that offers users a range of online Graphic designing tools, which is a darling among bloggers and small business owners who don't have the budget for costly Graphic designing tools and software. These users want to create professional-looking graphics and layouts, but they don't want to spend the money to do so.
Befunky is a graphic designing tool that empowers anyone to create beautiful designs without needing any design background. It's super easy to use and can help you create awesome designs without needing to learn how to use Photoshop or other design programs. In Befunky, you can choose from thousands of templates, backgrounds, and fonts to create your own design. You can also upload your own background or logo image to customize your design even further.
Gravit Designer is a Graphic designing tool that allows graphic designers to create and edit logos for their websites. This tool also has additional features including a text editor that allows you to edit or create your own fonts, a logo editor that allows you to upload or create your own custom logos, and a free template library that allows you to view and download free templates for your logo design.
Gravit Designer is free to use and also works on all major browsers. The Graphic designing tool is currently in beta and is still in an early stage of development but the developers are still actively working on it, which makes it worth checking out.
A simple yet powerful Graphic designing tool, PicMonkey enables you to create professional-quality compositions and graphical elements in just a few minutes. Use it to create infographics, social media posts, blog posts, and more! PicMonkey's intuitive drag-and-drop interface enables anyone to create impressive images in no time. Beginners can design basic images, and experienced users can create complex compositions with ease.
Illustrator is a graphic designing tool used to create vector graphics and art. It's a great tool when you want to create logos, websites, app interfaces, or pretty much anything else you can think of that requires graphics. It's a great way to experiment with different styles and create artwork from scratch. It can also be used to edit existing images, adding text or other design elements to them.
You've probably heard the hype—Sketch is the best design software out there. But what is it, exactly? A sketch is a design tool that allows you to create beautiful designs quickly and easily. It's the perfect tool to use when you're working on web or app design, logos, branding, or anything else. A sketch is like a blueprint for your design, and it allows you to create and share your designs in a very organized way. It's the perfect tool to use when you're working on web or app design, logos, branding, or anything else.
Inkscape is a free, open-source vector graphics editor similar in many ways to Adobe Illustrator or Corel Draw. Unlike those two programs, Inkscape is a digital design tool that is more commonly used to create digital artwork and design elements. It has a wide variety of uses, ranging from basic tasks such as drawing simple shapes and lines to complex functions such as creating unique hand-drawn text styles or advanced web page designs.
The Vector Graphic Editor is a tool for making vector art, which is a type of art made up of only lines and curves. Vector art is a style of graphics that is used on the internet, in video games, and in other computer programs. The Vector Graphic Editor is a program that allows you to draw and create vector art quickly and easily.
A vector is a type of line art that is created by drawing lines and curves to create shapes and objects. This is different from raster graphics, which use pixels and a limited number of colors. Raster graphics are what you see in photos and videos, as well as in computer programs. The Vector Graphic Editor is a great tool for making vector art. You can draw and create vector art quickly and easily with it.
InVision's design team is always on the lookout for new ways to improve our workflow. That's why we were excited to try InVision App — a brand new design tool that lets you build your product's design and interactivity without leaving your browser. No design software expertise is required. Sign up in just a few minutes and you'll have access to powerful design tools that make it easy to prototype, build and iterate your ideas.
Affinity Designer is a powerful vector Graphic designing tool that brings the power of professional, industry-level design software to your fingertips. With Affinity Designer, you can create beautiful artwork, logos, website layouts, and much more. It makes it easy to take your ideas from rough sketches to final results, without sacrificing quality or control.
Infogram is a powerful online tool for creating and sharing data-driven graphics and data visualizations. For a quick and easy way to create infographics, you can use the drag-and-drop interface to quickly create charts and graphs from pre-existing data. You can also use the platform to create collages, memes, and other types of visual content. You can share your infographics and collages publicly, or keep them for your own use.
Have you ever wanted to create an infographic, but felt intimidated by the design process? That's where Venngage comes in — the online graphic design tool is easy to use and will help you create professional-looking infographics, sales decks, and other marketing materials in no time.
Webflow is a Graphic designing tool that helps you create engaging websites and web apps. It's like a software version of a creative director's sketchbook: you drag and drop the content to create layouts, and then use its built-in design tools to make it look great. Best of all, you can hand a Webflow project off to a team of creatives and let them work their magic. You can also make changes to any part of the design process while your creatives are working, which saves you time.
CorelDRAW is a powerful vector graphics creation and editing tool. It's a great option for creating logos, flyers, business cards, posters, and any other design that needs to be printed on a large scale. CorelDRAW also includes tools for drawing, illustration, and graphic design. It's a great tool for creating logos, flyers, business cards, posters, and any other design that needs to be printed on a large scale.
Adobe XD is a new tool that allows designers and marketing pros to create a wide range of interactive graphic elements, such as buttons, and other interactive elements. It is a fully visual, web-based solution that is designed to work with any content, regardless of the type or format. It allows designers to create and edit their graphics, using any type of content—from images to video, from stills to animation. It is a great tool for graphic designers with or without web experience and can be downloaded for free from their website.
Balsamiq is a wireframing and user interface Graphic designing tool that allows you to create mockups of your web pages, apps, and other digital interfaces without coding.
Adobe Dreamweaver is a professional, full-featured web development tool used to create websites. It is a web design tool and a web development tool. It is also a digital publishing tool that allows web designers to create dynamic, interactive websites. This web design tool is used by graphic designers, web developers, and other web designers.
Google Web Designer is a web design tool that offers web designers an easy way to create responsive and beautiful websites for desktop, tablet, and smartphone devices. It uses Google Chrome as its primary browser and works on all platforms, including Windows, Mac, iOS, and Android. It also includes a set of tools like the Graphic designing tool that allow you to create and upload responsive templates, preview your designs on different screen sizes, and share your work with others. The software works well as a cross-platform design tool for a variety of purposes.
SketchUp is a 3D modeling tool that makes it easy to create complex 3D models and scenes. It has some great Graphic designing tools that let you visualize your ideas quickly and interactively. It's a great tool for anyone who needs to visualize their design before they start building it in 3D modeling software, and it also makes it easy to collaborate with your team. It's also great for students and teachers who want to visualize their ideas before they build them. If you want to learn more, you can visit the SketchUp website.
Placeit is a free tool that allows you to create images and mockups from a variety of different sources, including images you find on the web, stock photos, and images you take with your phone. You can use Placeit to create images for websites, ads, presentations, and more.
If you're looking to take your designs to the next level, the Adobe Creative Cloud may be the right choice for you. Adobe's industry-leading design software includes powerful tools for creating and manipulating intricate designs, from logos and posters to complex artwork and 3D objects. These tools allow you to create detailed designs with ease, allowing you to focus on what you're designing instead of how you're designing it.
Axure RP is a graphic designing tool and communication tool. It allows designers to create 2D and 3D printable and interactive content such as web designs, brochures, business cards, flyers, presentations, websites, and much more. With Axure you can create digital mockups, wireframes, user flows, prototypes, and more. Features include a variety of tools that help create all of these different types of content.
A framer is a free and easy-to-use graphic designing tool that lets you create interactive designs without code. Use Framer to prototype web and mobile apps, mockups, websites, and more without writing a line of code — perfect for designers who don't have any programming knowledge.
Justinmind is a user-friendly tool for creating compelling and professional-quality visual content. Create mind maps, flowcharts, wireframes, and more using our drag-and-drop interface. Make your ideas look beautiful and easy to understand with professional-grade visual design templates. Save your work and share it with others in a few easy steps
Conclusion
Today, there are many Graphic designing tools that can help you create graphics for your designs. You have the power to design anything you can imagine, as long as you have the right tools and the right know-how. You can design posters, flyers, business cards, websites, logos, and more with the right tools and the right know-how.
Read More:-
Hey, I am Karan Paswan, The Founder of this Digital Marketing Agency and many other online Ventures .
I'm a professional full-time blogger, a digital marketer, and a trainer. I'm here to help Bloggers, Startup and Business Owners to grow their business online.